28. Wireless Charging Pad 사용에 관한 다음 안내문의 내용과 일치하는 것은?
Wireless Charging Pad
- Instructions -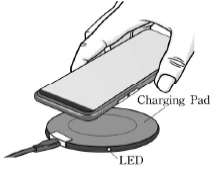 Wireless Smartphone Charging:
Connect the charging pad to a power source.
Place your smartphone on the charging pad with the display

facing up

.
Place your smartphone

on the center

of the charging pad (or it will not charge).
Charge Status LED:
Blue Light: Your smartphone is charging. If there's a problem, the blue light will flash.

White Light

: Your smartphone is

fully charged

.
Caution:
Do not place anything between your smartphone and the charging pad while charging

.
The charging pad is

not water-resistant

. Keep it dry.